Professional
TV Installation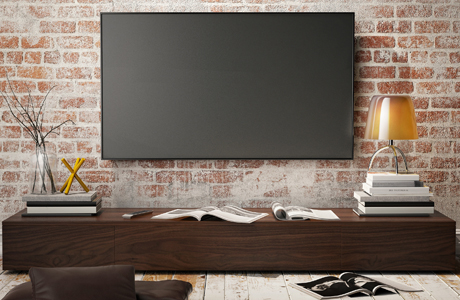 We are your TV mount installation experts. We believe you'll be impressed with our TV installation service that is delivered by technicians who are focused on proficiency, attention to detail and professionalism. Our specialists will always do the job to the best of their ability. We keep the cost reasonable, our quality high, and we have the utmost respect for your home. We arrive when we say we'll be there, keeping a high level of respect for your valuable time. We also clean up after your TV work is done.
Professional TV installation
To be sure your large screen TV is mounted and installed properly, it's smart to look for professional TV mounting near me done by expert TV installers. In many homes, the television quickly becomes a focal point of a room and a special part of your home décor. You want a TV mount installation that is done right, that makes your TV look attractive, and one that hides all of the wires and hooks up all of your other components correctly. We know exactly how to mount a TV on the wall to make it look and function its best. You need pro TV installation for the best results.
We provide same day, next day and easy to schedule professional service that you can depend on. We supply the professional television installation you need, straight to your door. Whether your TV is flat screen, an LED TV, plasma or any other type or brand of television, we've got you covered. We're your local, dependable and trusted television installation specialists.
TV Mounting Options
There are plenty of TV Installation options for optimal viewing and aesthetic design. Whether your looking for a simple flat TV mount or a motorized mount that conceals your TV, we have a solution. Scroll through the TV Installation questions below to see all the different type TV mounting services we offer and if you have your own idea we will be happy to advise you.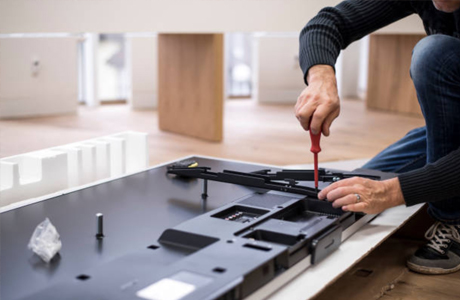 Flat Mount

A flat mount TV installation seems simple but there are many factors to consider. Flat TV mounts can make sure your TV is as close to the wall as possible. When you purchase the TV and bracket many times the hardware does not accommodate for the streamline installation your hoping for. Other installers may not have the experience or intuitiveness for the hidden pitfalls including high voltage electrical wires or water pipes behind the Sheetrock. HiDEF NJ has the experience and knows the flush finish result you are looking for.

Tilt Mount

Tilt mount TV Installations are perfect for Televisions that need to be mounted higher than eye level. This is usually in a bedroom or over a fireplace mantel. Tilt mounts also give you better access to HDMI ports and other connections that may be needed regularly if you use game consoles or other portable components.

Swivel Mount

A swivel mount or full motion swing arm mount will not keep your TV close to the wall but it will enable you to change the viewing angle any time. This is helpful when rooms are adjacent to each other and a swivel mount TV installation can accommodate multiple seating areas. Swivel mounts are also useful in corners or concealing a TV inside a cabinet area.

Fireplace TV Installation

If you choose to mount your TV over your fireplace there are a few options and some need to be considered, like a tilt mount. Mantels are usually pretty high and you will want your expensive investment as far away from heat and smoke as possible. We are not saying you have a leaky fire place but any residual smoke as well as dust form the ashes will take a toll on any electronics over time. You may also decide on mount that extends and drops down for a better view like the one in this video.

Outdoor TV Installation

During the warmer months we know you want to spend as much time outside as possible. Having an outdoor TV installed gives you the flexibility of enjoying the outdoors while not missing any live television events and also adds to outdoor entertainment. Whether your outside barbecuing or just relaxing HiDEF of Monmouth County NJ is extremely knowledgeable in outdoor technology experiences. It is not recommended and dangerous to use an indoor TV outdoors due to electric shock hazards. Always consult with a professional when considering any electronics outside.